Pine Tree Food Equipment provides 24/7 emergency service via an answering service with a "real person" for our customers needing immediate attention. Our customers include: Hannaford Brothers, Pizza Hut, McDonald's, Dunkin Donuts, Applebee's, 99 Restaurant, and other large chains. Additionally, we service many of the state's school nutrition departments, nursing homes, colleges, camps, bakeries, independent restaurants, and Mom and Pop variety stores. Regular business hours: 8:00 a.m. to 4:30 p.m. Monday through Friday.
WHAT WE DO AND WHAT WE REPAIR!
What We Do:
Commercial cooking equipment repairs
Commercial refrigeration equipment repairs
Parts sales
Installations
Performance maintenance programs
Gas appliance conversions
In-House repairs.

You bring it in, we repair it and let you know when it's ready for pick-up
---

What We Repair:
Gas connections and gas supplied commercial cooking equipment (both LP and Natural)
Steam connections and steam supplied commercial cooking equipment
Electric and electronic cooking equipment
Commercial refrigeration equipment
We also service commercial dishwashers, coffee makers, ice makers, garbage disposal systems, water filtration systems, hot water boosters.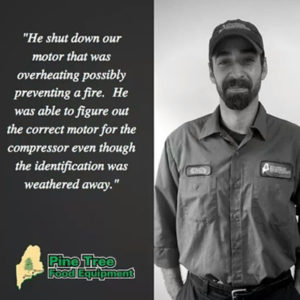 Pine Tree Food Equipment provides 24/7
on call emergency service!
Office hours
Mon: 8: 00am – 4:30pm
Tues: 8: 00am – 4:30pm
Wed: 8: 00am – 4:30pm
Thur: 8: 00am – 4:30pm
Fri: 8: 00am – 4:30pm
TRUST THE EXPERTS
WE ARE CERTIFIED AND READY TO SERVE!